This section celebrates evidence and the impact of disciples growing in love for our neighbours, local and global, and sharing with them the good news of Jesus.
Bridging Events
This year we hosted several opportunities for WMBers to engage in outreach, bridging people into relationship and belonging within our faith community. Many people who don't usually engage with the WMB community came to these events and activities because they were invited by friends, family and co-workers, and we have seen many new faces on Sunday mornings because of the wonderful welcome they received. These experiences serve to lead people into a journey of connection, belonging and, ultimately, transformation.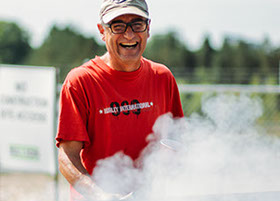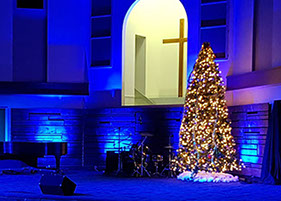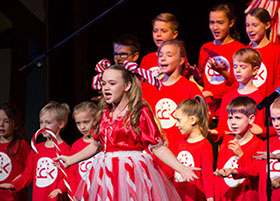 The local neighbourhood and friends and co-workers of WMBers were invited to share food, fun and culture with us at four summer barbecues.
At Blue Christmas, WMBers and community members were offered peace and a space to grieve during the holidays.
Our kids' Christmas musical
was an opportunity for our little WMBers to worship God with their talents and invite friends and family to experience the gospel
through drama.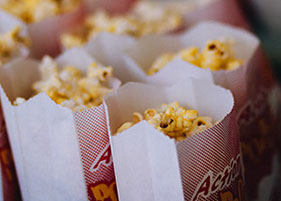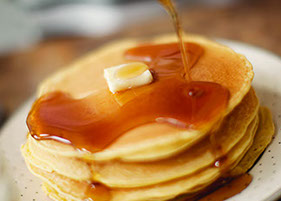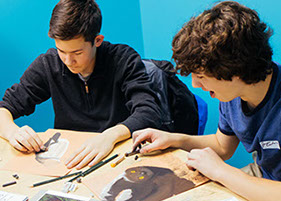 Movie Night was an opportunity for WMBers young and old to invite friends to cozy up for a blockbuster at WMB in February.
In February, WMBers and community members connected at Pancake Dinner, a fundraiser for WMB's short-term missions.
Many people who aren't connected to a church made friends at
Eat, Connect + Learn, six weeks
of dinner and fun workshops
offered in spring.

I'd like to thank you and your church for the warm welcome my boys and I received. We had a wonderful time last night, meeting new people, sharing a meal and learning a new skill. I hope my children and I can become more involved in the coming months and years with this wonderful new community.
Eat, Connect + Learn Participant

We were blessed with a beautiful afternoon and time with family and friends at the BBQ. So many happy faces and new connections being made by all. This is only one of the numerous reasons we love
WMB Church!
Congregant
LOCAL OUTREACH:
Barnabas Missions
Our Barnabas Missions community programming and individual supports based in Waterloo and the Victoria Hills neighbourhood in Kitchener empower WMB's disciples to express Jesus' love to people who are marginalized – refugees, new Canadians and the poor – in relational and practical ways. We thank God for evidence of transformation that has been years in the making as we've witnessed long-time as well as new program participants move toward long-term wellbeing, belonging within the WMB Church family, and into discipleship journeys with Jesus through these ministries.
FROM JESUS WITH LOVE
Our annual FJWL Christmas
party provided holiday fun for
180 families and the opportunity for parents to select gifts for
their kids.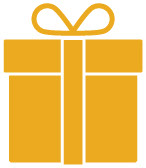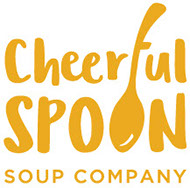 Cheerful Spoon Soup
Cheerful Spoon Soup Co. provided employees with income and meaningful work − and WMBers with 2,184 L of
delicious soup!
Individual Supports
4 volunteer coaches journeyed with 49 program participants, offering financial coaching, accountability, encouragement and prayer.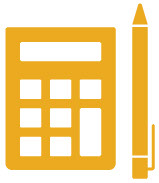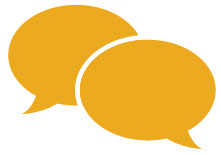 LEARN ENGLISH
MAKE FRIENDS
400+ new Canadians practised speaking English and connected with volunteers at this twice-weekly ESL program at Victoria Hills Community Centre.
Refugee Ministry
25 refugee families were hosted in the homes of 12 WMB families.
Refugee Ministry grew to include 50+ volunteers supporting refugees in various ways.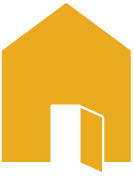 LOCAL OUTREACH:
W
umba Kids Camp
Our dream for WMB's Wumba Kids Camp is that kids from various backgrounds will experience the transforming love of Jesus through the friendships they make, the scripture they explore and the leaders who invest in their lives during their time at camp. Wumba has evolved to offer six weeks of subsidized, full-day camp in Waterloo and continues to reflect a diverse cross-section of our city. This year, we also celebrated the multiplication of Wumba as a WMB short-term mission team led a Wumba camp experience in Manila, Philippines, alongside our Global Partner community there.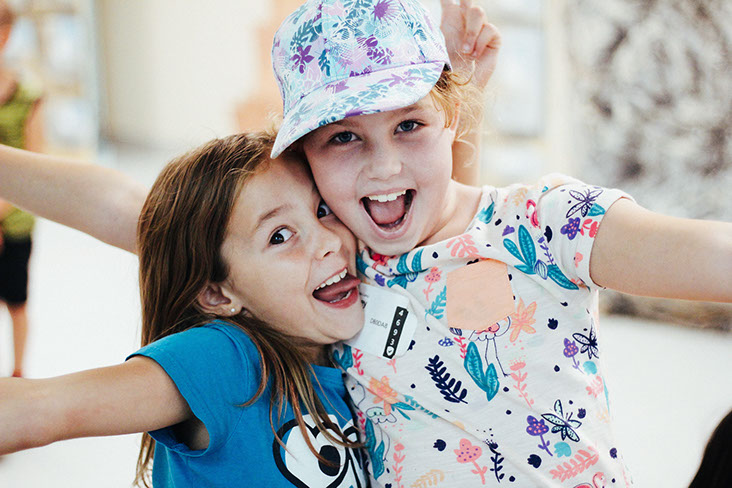 Dear God, can you come into my heart?
Wumba Camper, on a Prayer Card
Global Outreach
We seek to be a people with global vision and love for the nations. In obedience to Jesus' instruction to take the Gospel message to the ends of the earth (Acts 1:8), we strategically invest, relationally and financially, in three "Global Partner" communities and in several long-term missionaries serving in Canada and around the world who are doing just that. We also send WMB disciples on short-term missions to experience and partner with the Holy Spirit – the true Missionary – at work in other cultural contexts.
people participated in a short-term mission experience
4 kids
11 youth
12 young adults
34 adults
38 participated on WMB teams
23 participated in individual experiences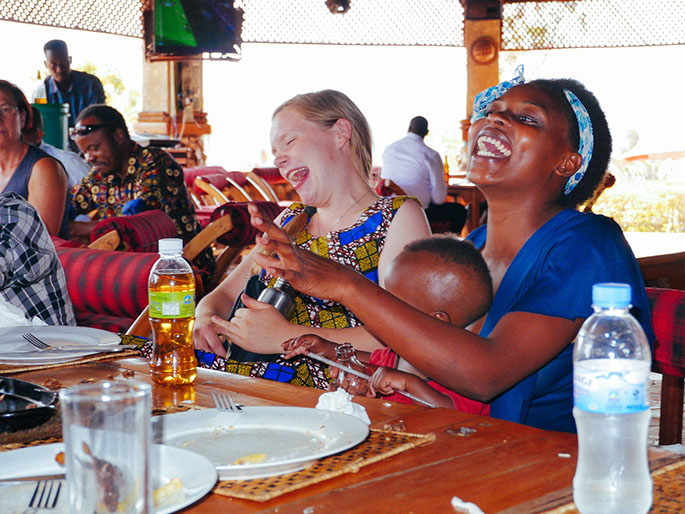 In August 2017, six WMBers travelled to Kigali, Rwanda, to partner with Global Partner Impact Rwanda and the local church to offer Vacation Bible School to the community. The team also engaged in ministry at Kiziba Refugee Camp where they co-led a music ministry and offered an intensive budget coaching workshop to residents. Our participants were deeply moved by Rwanda's genocide story and how God is continuing to restore and heal this nation.
In May 2018, an intergenerational team of 18 WMBers travelled to Manila, Philippines, to serve children living in poverty alongside Global Partner IT Tender. Participants teamed up with WMB missionaries John and Jam Coffey and local staff to provide a three-day Wumba Philippines overnight camp and family day, which culminated in baptisms of Filipino youth and one of our own young participants! Our mission team was inspired by our Filipino brothers' and sisters' passion for Jesus.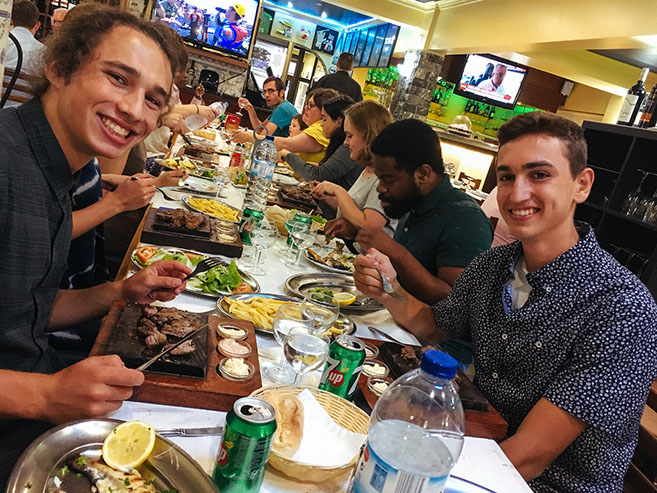 In July 2018, a team of 11 youth and three leaders travelled to Lisbon to encourage the small but faithful MB churches in Lisbon, Portugal, that represent our Global Partner there. The team served the churches in practical ways, listened well to stories of God's activity in Portugal and surrounded our partner churches in prayer. The youth were inspired by the dedication of our brothers and sisters serving Jesus faithfully in a spiritually dark city.